Campus News
Archives Acquires Tony Musante's Papers
February 12, 2013
Oberlin College Archives
Actor, director, and writer Tony Musante, Oberlin Class of 1958, has donated his personal-papers collection to the Oberlin College Archives.
Described as "an actor's actor" by the New York Daily News, Musante began acting off-Broadway and in television in the early 1960s. He made his film debut in 1965 and two years later he gave an award-winning performance as the menacing hoodlum Joe Ferrone in The Incident. Other of his roles include Detective David Toma in the television series Toma, 1973-74; the gay burglar Vito in P.S. Your Cat is Dead!, his first Broadway performance in 1975; and his work in such Italian films as The Anonymous Venetian in 1971.
Spanning the years 1954 to 2012, the Musante Collection includes extensive biographical information; Musante's handwritten notebooks that contain his thoughts, questions, ideas, and directorial suggestions relating to 116 of his acting roles in film, television, and theater productions; production photos of his work on the stage and in films; scrapbooks relating to his student days at Oberlin and his professional work in film and theater; scripts; playbills; posters signed by co-stars and production crews; and DVDs of many of his movies and television shows. The collection also includes materials relating to his wife, writer Jane Sparkes Musante '59.
"We're delighted to have Tony Musante's papers at Oberlin," says Geoff Pingree, chair of the Cinema Studies Program. "His collection will give cinema studies students an additional and valuable inside perspective on the overall process of making films and television programs. The notebooks he kept for his roles will be especially valuable in illustrating how an actor's views of a character develop during the course of a production."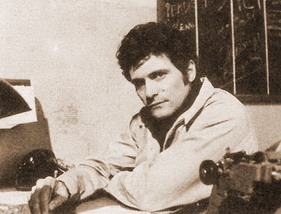 "I am very happy to have my collection at Oberlin, where my acting career began," says Musante. "I truly hope it will be helpful and interesting to students and faculty in cinema and theater fields."
Tony Musante has received many awards during his career, including the Photoplay Best Actor Award and the Hollywood Women's Press Club Award for his work in the Toma series, a New York Drama Desk nomination for his Broadway work in P.S. Your Cat Is Dead!, and an Emmy nomination for his role as Hoff in the NBC movie The Quality of Mercy. International awards include the best actor award at the Mar del Plata Film Festival for his performance in The Incident and the Rodolfo Valentino International Cinema Award.
The Oberlin College Archives is creating an online finding aid for the Musante Collection. Please contact the archives for more information: phone 440-775-8014 or e-mail archive@oberlin.edu.
The archives will exhibit materials from the Musante Collection in the Academic Commons of the Mudd Library from March 4 to 17 and in the Goodrich Room on the fourth floor of the Mudd Center from March 18 to 29.
You may also like…
If the walls in Finney Chapel could talk, they would reverberate with the enchanting sounds of the Oberlin Orchestra; command attention with empowering words spoken by Martin Luther KingJr.; and pulse joyously along with South Africa's Soweto Gospel Choir.
''In Oberlin History'' is a series dedicated to notable events in Oberlin College history. After the end of World War II, trailers served as temporary places of residence for the influx of veterans on campus.
''In Oberlin History'' is a series dedicated to notable events in Oberlin College history. In October of 1859, abolitionist John Brown led a party of 22, including three Oberlinians, on the raid of a United States arsenal at Harpers Ferry, Virginia.